Subscribe: Apple Podcasts | Spotify | Email | TuneIn | RSS
Lowell Ponte, President Trump Endorses Judge Roy Moore Alabama Senate Election, Dems Using Sexual Misconduct to Clear GOP for House Senate, Trump's Agenda Hanging on Abortion Issue, Two more Supreme Court Judges by Trump, Heart Beat Prolife Bill Will Pass, End of American Infanticide, Repentance Call to Churches, Alabama Women for Life, Testimony of Dr Bill on Abortion, Dr Bill Deagle MD, NutriMedical Report, www.Deagle-Network.com, www.ClayandIRON.com, www.NutriMedical.com, 
https://apnews.com/95acb420a33046ffb369dda0483170ee/Trump-all-but-endorses-GOP's-Moore-despite-sex-accusations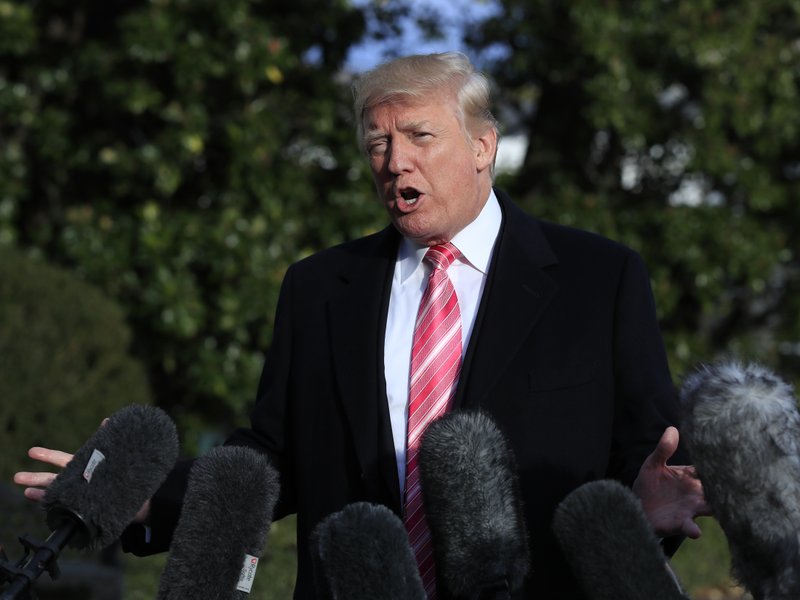 Trump all but endorses GOP's Moore despite sex accusations
WASHINGTON (AP) — Silent for more than a week, President Donald Trump all but endorsed embattled Alabama Republican Senate nominee Roy Moore on Tuesday, discounting the sexual assault allegations against him and insisting repeatedly that voters must not support Moore's "liberal" rival.
The president said he would announce next week whether he will campaign for Moore, who faces Democrat Doug Jones in a Dec. 12 special election to fill the seat once held by Attorney General Jeff Sessions.
Trump, who won election despite facing more than a dozen accusations of sexual misconduct himself, dismissed questions from reporters about backing a Republican accused of sexual assault over a man who is a Democrat. Trump pointed to Moore's assertions that he did nothing wrong.
"Roy Moore denies it, that's all I can say," Trump said. In fact, he repeated 10 times in a 5-minute session outside the White House that the GOP candidate has denied any wrongdoing.
Two Alabama women have accused Moore of assault or molestation — including one who says she was 14 at the time — and six others have said he pursued romantic relationships when they were teenagers and he was a deputy district attorney in his 30s.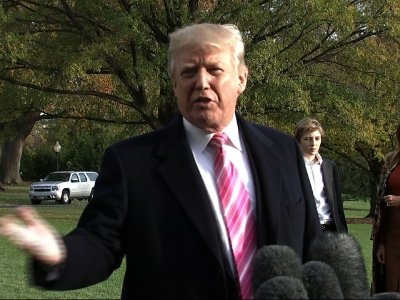 Trump didn't explicitly say he was endorsing Moore, but he said with emphasis, "We don't need a liberal person in there. … We don't need somebody who's soft on crime like Jones."
He also noted that the allegations came from behavior alleged to have happened decades ago.
"Forty years is a long time," Trump said, questioning why it took so long for Moore's accusers to come forward.
Former Sen. Sessions has said he has no reason to doubt the allegations against Moore, Republican leaders in Washington have called for Moore to leave the race, and the White House has repeatedly said Trump himself felt Moore would "do the right thing and step aside" if the allegations proved true.
But Trump had been publicly silent until Tuesday when he exchanged questions and answers with reporters, shouting to be heard over the noise of his Marine helicopter, waiting to take him to Air Force One, which then flew him to his Mar-a-Lago estate in Palm Beach, Florida, for Thanksgiving.
Senate Majority Leader Mitch McConnell and House Speaker Paul Ryan, both Republicans, have called on Moore to leave the race in light of the accusations. The Republican National Committee and the National Republican Senatorial Committee have pulled their support for his campaign.
Trump backed incumbent Sen. Luther Strange in a September Republican primary, but moved quickly to embrace Moore after he won. A White House official said Tuesday that Trump's attack on Jones did not amount to a formal endorsement of Moore, only that Trump was communicating that sending the Democrat to Washington would hamper his agenda.
Republican leaders briefly explored the possibility of seeking a write-in candidate but have determined those efforts would only increase Jones' chances by splitting the GOP vote in the Republican state. Sessions has resisted pleas to mount a last-minute campaign for his old seat.
The allegations against Moore come amid a national reckoning over misdeeds by powerful men in media, business and politics.
Just Tuesday, longtime Michigan Rep. John Conyers acknowledged that his office settled a sexual harassment complaint involving a former staffer, though he "vehemently" denied allegations in the complaint.
BuzzFeed reported that Conyers' office paid a woman more than $27,000 under a confidentiality agreement to settle a complaint in 2015 that she was fired from his Washington staff because she rejected the Democrat's sexual advances.
Trump said he was "very happy" that women are speaking out about their experiences.
"I think it's a very special time because a lot of things are coming out, and I think that's good for our society and I think it's very, very good for women," he said.
More than a dozen women came forward in the waning days of the 2016 presidential election to say that Trump had sexually assaulted or harassed them over the years. He denied it. A tape was also released catching him boasting in 2005 that he could grab women's private parts with impunity. "When you're a star, they let you do it," Trump said on the "Access Hollywood" tape.
Trump, who has said all of his accusers lied, declined to answer Tuesday when asked why he does not believe Moore's accusers.
Jones, Moore's senatorial opponent, served as a federal prosecutor in Alabama, where he brought charges against two Ku Klux Klan members over their roles in killing four girls in the 1963 16th Street Baptist Church bombing in Birmingham.
Jones began airing a new ad Monday that features statements made by Sessions, Alabama Sen. Richard Shelby and first daughter Ivanka Trump responding to the allegations against Moore.
Shelby, a fellow Republican, said he will "absolutely not" vote for Moore. Ivanka Trump said there's "a special place in hell" for people who prey on children.
"I've yet to see a valid explanation, and I have no reason to doubt the victims' accounts," Ivanka Trump told the AP last week.
The ad was the first direct assault by the Jones camp against Moore on the allegations.
Moore's camp has begun firing back at the media and one of the accusers. His campaign held an afternoon news conference to vigorously question the account of Beverly Nelson, who said Moore assaulted her when she was a 16-year-old waitress.
The campaign quoted two former restaurant employees and a former customer who said they did not remember Nelson working there or Moore eating there.
___
AP writers Kim Chandler in Montgomery, Alabama, and Corey Williams in Detroit contributed.
_____________________________________________________________________________________________________________________
The Return of Morality in Politics?
by Lowell Ponte
NOVEMBER 20, 2017 ~ PONTIFICATIONBLOG
https://pontificationblog.wordpress.com/2017/11/20/the-return-of-morality-in-politics/
It seemed as if an ice age of frozen partisan hate-filled politics might be the end of American democracy. But, thankfully, we may be seeing the first green shoots of a springtime renewal of personal as well as social morality in our politics.
At The Atlantic, Caitlin Flanagan writes that feminists who rushed to defend Bill Clinton in the 1990s were "on the wrong side of history." A chorus of other Democrats and progressives agree that this immoral ex-president and others deserve to be condemned now.
Is this genuine contrition or pragmatic politics? Democrats now recognize that they cannot credibly charge sexual misbehavior against Alabama Senate candidate Roy Moore while refusing to condemn their own such as Bill Clinton or current Democratic Senators Bob Menendez and Al Franken.
Democrats paid a high price for saving Bill Clinton in 1999 after he became the first elected president impeached in American history. Had Democrats in the U.S. Senate gone along with Clinton's removal for sexual and legal improprieties, Vice President Al Gore would have become president and been able to run for two presidential terms with little of the baggage of his predecessor.
Instead, Gore ran in 2000 amid widespread disgust that Clinton had escaped justice, a disgust that millions still feel today for Bill and Hillary. Being Clinton's submissive Number Two tainted Gore and almost certainly cost him that election.
In 2000, Gore did not lose the Electoral College vote 271-266 solely because Florida's 25 electoral votes went to George W. Bush, as Democrat mythology claims. Gore also lost the 11 electoral votes of his own home state of Tennessee, where people who knew him best voted against him. He also lost the six electoral votes of the Clinton home state of Arkansas. These are Southern states where biblical morality remains strong. Without such integrity, societies and economies fall apart, as Craig R. Smith and I discuss in our book Money, Morality & The Machine.
If Gore had won either Arkansas or Tennessee, he would not have needed Florida to become president. He might have won the combined 17 electoral votes of both if the Clinton scandals were in the rear-view mirror of history and Gore were running as the incumbent president.
This is what Democrats threw away by putting politics and power over moral decency by defending President Clinton. Had they allowed Clinton's removal, as many now agree he deserved, they would still have had Democratic President Al Gore. Instead, they bought the Senate votes needed to keep Clinton in office with gifts ranging from taxpayer cash to a free ride on the Space Shuttle. But in 2000, a Higher Power brought justice to Democratic wrongdoers.
The liberal assault on Roy Moore over sexual accusations suggests that we may see a lot more of such last-minute attacks against Republicans during 2018 and 2020 Democratic efforts to regain the House, Senate, and White House. Democrats and their media comrades will play the "sex card" to infuriate female voters, just as they routinely play the "race card" to motivate minority voters.
Are Democrats beginning to see the light about running moral candidates – if not campaigns? Or do they merely feel the heat of feminist Political Correctness and the need to regain political power by, as Machiavelli might say, appearing to be virtuous? Hypocrisy is the tribute that vice pays to virtue. In this Thanksgiving season, at least personal morality appears to be coming back into style, and for this we should be thankful.