Subscribe: Apple Podcasts | Spotify | Email | TuneIn | RSS
Gary Richard Arnold, News-Expose.org, Adam Shiff(tt), Rattler vs Nadler, Nancy P-Lousy, Connect Shiff with Ukraine, Connect Buck with Demon-Rat Democrats, Shifty Coup Plotter Adam, Dr Bill Deagle MD AAEM ACAM A4M, NutriMedical Report Show, www.NutriMedical.com, www.ClayandIRON.com, www.Deagle-Network.com,
Subject: Adam Schiff Standard Hotel /// West Hollywood /// Ed Buck's Dead Bodies // Secret Socities
RACHEL CHANDLER EXPOSED AS A CHILD PROCURER FOR THE SATANIC ELITE BY Q
A so-called casting director and photographer, named Rachel "Ray" Chandler, of the Chandler family newspaper dynasty, that previously owned the Los Angeles Times for decades, graduated in 2005 from the Brentwood School in Los Angeles and has now been mentioned by Qanon once again, but this time, being cited as being "100 times worse" than Allison Mack of NXIVM, after previously being alluded to in the same breath as Jeffrey Epstein, Bill Clinton and The Standard Hotel in the spring last year.
Well, what does this all mean? Well, Qanon hints at her work in the procurement and handling of children, meaning she's deeply involved and is being implicated in human trafficking, making Allison Mack's crimes in NXIVM seem insignificant in comparison, due to the scale of Chandler's involvement in such activity.
With Rachel Chandler's casting and model agency, used as a front, which features several teen models and several unhappy children captured in photographs,  inside her LA photography studio, which is being funded by people, other than herself.
Well, who funds her photography studio and what really goes on inside this studio? Qanon has questioned this, and it's not your standard type of photoshoots.
Yes, Rachel Handler has ties to convicted pedophile Jeffrey Epstein, who's Little Saint James Island has been the location of elite parties with children (cases of pedophilia), as is also signified by the aptly titled private jet, the Lolita Express, which flies patrons to and from the Island, and on the flight logs it lists that Bill Clinton has visited the Island no less than 26 times, and Hillary Clinton at least 6 times.
Well, Rachel Chandler has also been pictured next to Bill Clinton aboard the 'Lolita Express' in 2006, plus to that of Rachel pictured sitting next to Eminem in another photo, which was hinted at and by Qanon, more than a year ago, as being of significant interest.
Moreover, "Ray" Chandler or Rachel, had also shared images on her Instagram previously of the CCTV images from beneath the now destroyed temple on Jeffrey Epstein's Island, where down inside the bunkers, in one image, it shows people gathered around seated, completely naked in the footage, which Chandler boasted about in a post on the social media network.
The CCTV footage Rachel Chandler once shared on Instagram, which was picked up by PizzaGate researchers, featuring naked people sitting at tables, next to camera 11. On the right, it's Epstein's Satanic temple on Pedo Island. Credit: RayChandler/EpsteinIsland
If Epstein threw sick parties and invited sick guest onto his Island, with the whole place heavily surveilled, so as to implicate and or blackmail prominent people or not? What if somebody else got a hold of all the incriminating evidence?
What if someone in relation to the Q team has all the information already? Do you recall the news story of ZTE phones being used on Epstein's Island by top level Democrats and celebrities, thinking that all their ommunications were safe?
Whilst, all the while, all the media was safely backed up and stored on servers back in China. What if this footage was already retrieved by the Q team, from these servers in China, which they really thought was safe? How many politicians and celebrities are aught on tape engaging in depraved acts, which would deserve a military tribunal or a lengthy jail sentence?
Now let's take a look at an information graphic, featuring that famous Bill Clinton photo with Rachel Chandler aboard the Loliata, plus pictures unearthed from Rachel Chandler's Tumblr, via what she thought was blocked CSS communications with members, but exposed by anons and via cell phone sharing. Plus, the photo of the men in black robes on Epstein's Island, down in the now mostly demolished tunnels, some weeks before the Island mysteriously caught on fire.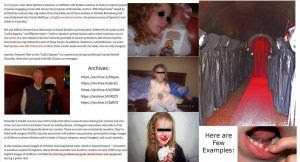 Dentistry and dentist chairs had also been discovered inside Epstein's properties, and has been alluded to in Epstein's sickening world of pedophilia. Credit: Twitter
Furthermore, "Ray" or Rachel Chandler, as she's confusingly known, has also been tied to numerous art events hosted by satanic Spirit Cooking pedophile artist, Marina Abramovic, throughout the years. Even working as the primary photographer for Terence Koh, who's intrinsically tied to Abramovic through various collaborations, which has made Satanic art and rituals with blood and semen, plus with exposed photos of mock human sacrifices, with cake's in the shapes of women, which are dissected at soiree's attended by many elites, and eaten, exemplifying human sacrifice.
But it gets much-much worse, as when PizzaGate researchers discovered @RayChandler's now private Instagram account, and Tumblr page, they found that it features disturbing images of children in sexually suggestive poses, enough to make your stomach turn.
This is one of the many disturbing images shared by Rachel Chandler on her Tumblr page. She never thought non-members would see these pictures.  Credit: RachelChandlerTumblr
But, there's so much more, and many such sickening posts from Rachel Chandler's Instagram, gathered by researchers before she made her Instagram page private, and somebody has made a video showing them off, further alluding to Satanism, Satanic Ritual Abuse, pedophilia, child molestation, her links to the Clinton family, her posts about Epstein's Island and more. Watch below, but be warned as this makes for some very disturbing viewing, which will enrage you.
Yes, people like Rachel Chandler think that this is normal and acceptable, signifying what Q has been saying all along, these people are sick. Rachel Chandler is involved in the business of selling children, child trafficking and providing children for sick means, like you wouldn't believe.
Rachel Chandler is also close friends with The Standard Hotel owner, André Balazs, for many years already, the man who sexually groped Jason Bateman's wife after a film premiere in London, and has been accused of many more sexual assaults, and the hotel itself, has been mentioned by Qanon and other researchers many times, in relation to the disappearance of children.
This is the Standard Hotel in West Hollywood (not downtown), which would be a nice hotel if it wasn't implicated in sick occurrences, such as with that incident with corrupt Democrat, Adam Schiff. 
Credit: flickr.com
But, the Standard Hotel in downtown Los Angeles, has even been implicated with its water tanks near the pool on the rooftop, to be containing more than average and super high levels of chlorine and even acid, said to be used to dispose of bodies when dropped into the tanks. Is that true? Or just a rumor? We don't know, but what's really been inside those tanks on the roof, nobody will probably ever know?
From The Standard Hotel's writing being upside down, like the inverted cross of Satanic worship, to the rumors of strange events happening at the hotel, including that incident with Democrat, Adam Schiff, where something horrible happened, that has relation to an act of pedophilia, but it was kept highly secret, but for ransom.
However, this has now later resulted in Adam Schiff being accused and responsible for that helicopter crash in Los Angeles, which killed three 'the Standard Hotel' Executives in the process.
And, where is 
The Standard Hotel
 located? Well, in West Hollywood 
of course
, which is
 Adam Schiff's
 district, and 
maybe
 Schiff
 had to seemingly get rid of people who knew too much of  this incident at the 
Standard Hotel
 in West Hollywood?
Plus, who can forget Democrat donor, Ed Buck, who still pays black men for sex and is addicted to his fetish of administering high meth doses in injectable form, to these young black men, for which two men have already died and been recovered from his apartment. That's akin to murder. Well, here's a photo we could and shouldn't miss either, Schiff and Buck.

Just a picture of good buddies, Adam Schiff and Ed Buck. One is a suspected pedophile with a major blackmail incident at The Standard Hotel, and the other caught with two dead bodies inside his apartment. Both Democrats, of course. Credit: Reddit
All of these people are connected, and they're all very sick, and completely evil. Thus, Rachel Chandler's a link piece connecting several evil people, all interlinked in high level politics, entertainment, media and beyond, with Chandler being listed as a procurer of children and even being a child handler.
From files of evidence found in the Jeffrey Epstein case, to computer files and evidence found on Anthony Weiner's laptop, Rachel Chandler is knee deep in it, and the elites have been trying to cover all of this up.
But, when it all comes out, don't say we didn't warn you, or better yet, the Q team did warn us all. Rachel Chandler's so-called works in that casting agency, have much deeper connections to the Clinton Foundation than anyone knows, not unlike NXIVM, but seemingly on a much larger scale.
This is the Satanic worldwide cabal, and PizzaGate researchers have identified many culprits so far, such as Rachel Handler, John Podesta and James Alefantis.
So, is it any wonder as to why so many of these people, including celebrities are so greatly opposed to Donald Trump? As Q says, "those who shout the loudest, usually have the most to hide."
Think about that for a moment, and lastly, the jury is still out, as to if  Rachel Chandler, was initially born a man called "Ray," but please do take a closer look.
Meanwhile, a court is contemplating reopening the case and crimes of Jeffrey Epstein, after he recently got off lightly for various pedophilia charges. Rachel Chandler's name would most definitely arise in those court documents, if the Epstein case is reopened, and our two cents say, she would most definitely warrant her own case, if an indictment hasn't already been served. However, could all of this evidence really be purely circumstantial? You decide!

But, inside sources suggest that if Rachel Chandler's testimony is accepted in exchange for leniency, it could very well blow the lid off of the whole Pedo-Satanic "child sex" trafficking ring on a massive global scale. So, we may soon be hearing the chirping of a Canary, singing very loudly, and for a long time to come.
The Adam Schiff Hotel … West Hollywood … Standard Hotel 
Cesspool for child pedophilia ?
This Hyperlink: 
https://www.reddit.com/r/The_Donald/comments/7v78v3/video_for_standard_hotel_by_marco_brambilla_adam/
Plus + 
https://www.reddit.com/r/The_Donald/comments/7v78v3/video_for_standard_hotel_by_marco_brambilla_adam/
Dead Bodies … Ed Buck sat on the board & steering committee of the highly influential pro LGBT Stonewall Democratic Club, until he was asked to step down in Aug 2017. According to their official statement, Buck agreed to resign. Note other members: Adam Schiff and inappropriate sexually active CA Dem Party Chair Eric C. Baum
https://www.youtube.com/watch?v=NbEec25qC94
On Monday, Feb. 5, QAnon posted at timestamp 19:55:43, approximately 7:56 pm ET, that a recorded phone call exists between Adam Schiff and Valerie Jarret, lasting 42 minutes and 13 seconds, that constitute evidence of treason under Article 3, Section 3 of the Constitution. QAnon documents that the recorded phone call was witnessed by what appear to be 11 people, supposedly fulfilling the requirement of Article 3, Section 3 that two witnesses are available to give testimony to the same overt act that constitutes treason against the United States.
This shocking revelation, if true, should give Schiff pause to take seriously President Trump's tweet on the same day, putting Schiff on notice that criminal charges could be brought against Schiff for leaving committee hearings to illegally leak confidential information.
As seen here, Trump's tweet suggested that "Little Adam Schiff" is so desperate to run for higher office that he has become "one of the biggest liars and leakers in Washington," on a par with former FBI Director James Comey; Sen. Mark Warner, the ranking member of the Senate Select Committee on Intelligence; former CIA Director John Brennan; and former Director of National Intelligence James Clapper.
Beginning at the end of January, QAnon has issued a series of posts drawing attention to Schiff's alleged involvement with various scandals, including some that may be criminal in nature, that are reported to be ongoing in his California district that includes West Hollywood.
Adam Schiff and the Standard Hotel
On Jan. 31, QAnon posted at timestamp 22:22:52, approximately 10:23 pm ET, noting a helicopter crash that happened in Newport Beach and involved an unnamed hotel general manager.
The background to these posts takes us to the day before, when an R44 helicopter taking off from John Wayne Airport in Orange County, California, at 1:45 pm local time, crashed in Newport Beach residential area, killing three executives associated with the Standard Hotel, a trendy, gay-friendly hotel located in Schiff's district in West Hollywood, California.
The three killed in the helicopter crash associated with the hotel were the Kimberly Lynne Watzman, 45 years old, the general manager of the Standard Hotel; Brian Reichelt, 56, of Hollywood, Florida, who worked at the Standard Hotel in Hollywood, Florida and was regional financial director for the Standard International, the parent company hotel chain; and Joseph Anthony Tena, 60 of Newport Beach.
Tena was a Spanish-born entrepreneur, involved with Ferrado Garden Court LLC, a company in Spain owned by two of the richest people in Spain, with international holdings that evidently include stock in the Standard Hotel chain in the United States.
The helicopter, when it crashed, was headed for a day-trip to Catalina Island, one of the Channel Islands offshore, southwest of Los Angeles.
In 1984, West Hollywood was incorporated as "America's first gay city," capping off a legacy that traces back to the Prohibition Era "when the 1.7-mile-long stretch of the Sunset Strip became a haven for speakeasies and casinos because it fell outside the jurisdiction of the hyper-vigilant LAPD and inside the jurisdiction of the relatively lax L.A. County Sheriff's Department."
According to a New York Times report published Nov. 9, 2017, André Balazs, known as the creator of the Standard brand of hotels that he created two decades ago, was also known for dating actress Uma Thurman 
for years, as well as dating television host Chelsea Handler, 
 and for making his hotels a hangout "for members of the hip Hollywood set, like Johnny Depp and the singer Florence Welch."
The New York Times reported Balazs has been accused of sexual harassment, specifically running his hand up the dresses of various women, touching their genitals without consent, in a pattern of behaviors that traces back to an incident first reported in 1991.
QAnon sharpens attack on Schiff
In the next post, QAnon suggested at timestamp 22:46:51, approximately 10:47 pm ET, that Schiff was being blackmailed over "a death cover-up" that occurred at the Standard Hotel.
Then, in a final post, QAnon suggested at timestamp 23:00:51, approximately 11:01 pm ET, that Schiff was concerned he might be implicated in a pedophilia ring that an anonymous poster suggested was being run out of the hotel.
In an earlier post, QAnon on Dec. 10, 2017, suggested at timestamp 23:29:56, approximately 11:30 pm ET, that Schiff was "a traitor to our country," a "leaker" of national security information.  In this post, QAnon called Schiff "evil," taunting Schiff that QAnon hoped the "$7.8 million dollars was worth it."
This QAnon post appears to reference a report published two days earlier, on Dec. 8, 2017, that the Orange County District Attorney's office had obtained a $7.8 million settlement in a civil lawsuit against two Yorba Linda medical communities accused of profiting illegally from the sale of fetal tissue and stem cells.